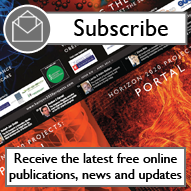 Energy funds warning

Keith Melton, the president of the European Renewable Energy Research Centre, has warn...

Cultural H2020

The European Parliament's Industry, Research and Energy Committee has approved an ame...

Researchers back H2020

A growing list of European research institutes are giving their backing towards the de...

Fund transport call

Transport requires increased investment, particularly in green technology, under Horiz...

SEI: "optimistic"

The Stockholm Environment Institute's Tom Gill has welcomed efforts by the European Un...

Battery boost needed

Alfons Westgeest, the secretary general of EUROBAT, the association of European Automo...

Biofuels: 27% by 2050

The use of biofuels is expected to grow rapidly by 2050 according to the chair of Euro...

Funding "to double"

The European Commissioner responsible for Industry and Entrepreneurship, Antonio Tajan...

Maternity focus

Europe must consider introducing specialist maternity guidelines for immigrant women s...