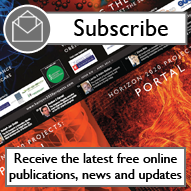 Cultivating H2020

Máire Geoghegan-Quinn outlines the importance of tackling food security, increasing a...

Brain month

Following a month-long focus on the brain, Máire Geoghegan-Quinn outlines the multi-f...

Cycling barometer launched

The European Cyclists' Federation has launched a new report that analysis different ...

"Our next great frontier"

Research, Innovation and Science Commissioner Máire Geoghegan-Quinn announces the sig...

MEP criticises healthcare access

Spanish MEP Alejandro Cercas has described healthcare in the European Union as "una...

Smart Farming

New technology to help improve the accuracy of a tractor's ploughing could help incr...

EC in calls launch

The European Commission is ready to launch calls for Horizon 2020 from the end of the ...

Energy investment needed

The CEO of Italy's largest power company, Enel, has called for greater investment in...

MRSA antibiotic clues

Scientists at Imperial College London have identified four new proteins that act as re...

Climate-KIC

Professor Mary Ritter, chief executive of Climate-KIC, outlines the role of Europe's...

Randox invests in Ireland

Irish MEP Pat the Cope Gallagher has welcomed fresh R&D investment by healthcare firm ...

Lords: More money for energy

The House of Lords in the UK parliament has concluded that €1 trillion of investment...

Defence gets H2020 funding

European Commissioner for Industry and Entrepreneurship, Antonio Tajani, outlines to ...

SSH survey launch

The 2013 Lithuanian Presidency of the Council of the European Union has launched a con...

Entangled Balkans?

Professor Roumen Daskalov of Central European University outlines how his 'Entangled...