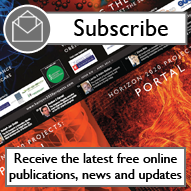 Animated films funded

A university lecturer has been awarded a grant from the European Research Council (ERC...

ESS highlights European differences

The latest findings published from the European Social Survey has highlighted differen...

Cultural ERA-Net

Nineteen research organisations are set to be part of the ERA-Net Humanities in the Eu...

Humanities film released

A new film has been launched on the work of the 'Humanities in the European Research A...

H2020 humanities consultation extended

A consultation run by the Lithuanian Presidency of the Council of the European Union h...

H2020 social report

WILCO, an EU-funded social research project, has published a position a report detaili...

Defence gets H2020 funding

European Commissioner for Industry and Entrepreneurship, Antonio Tajani, outlines to ...

SSH survey launch

The 2013 Lithuanian Presidency of the Council of the European Union has launched a con...

Entangled Balkans?

Professor Roumen Daskalov of Central European University outlines how his 'Entangled...

Humanities in H2020

Horizon2020projects speaks to Dr Nina Kancewicz-Hoffman, senior science officer in hum...

Cultural H2020

The European Parliament's Industry, Research and Energy Committee has approved an ame...