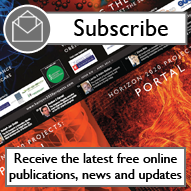 Agroecology in practice

Samuel Féret, EU co-ordinator of ARC2020, talks to Portal about how agroecological ap...

Gartner predicts smart cities will meet COP21 targets

According to Gartner, half of smart cities will put climate change as their headline K...

A perfect storm

Globally, one child per million is diagnosed with high-risk neuroblastoma every year. ...

EUA calls for better balance in research funding

The EUA has called on the European Commission to ensure the next Framework Programme p...

GoOpti Raises €4.4m for shuttle platform

GoOpti, a European shuttle platform, raised €2.9m in Series A funding and has receiv...

AHDB leads pig welfare project

The UK's AHDB is to lead a new European-wide project that aims to improve pig welfare....

Enhancing STEM education

Dublin City University's Dr Gabriel-Miro Muntean introduces NEWTON, an innovative ne...

EU urged to strengthen youth programme

The EU's flagship Youth Employment Initiative (YEI) programme has been criticised fo...

Lake Bizerte project begins

The Integrated programme for the protection of Lake Bizerte against pollution was laun...

Leicestershire to benefit from EU funding boost

Industries in Leicestershire, UK, are set to benefit from £50.3m (~€55m) of Europea...

IBEX robot to revolutionise UK farming

A Leicester county inventor has designed a robot that could revolutionise UK farming....

Bacteria in bricks could create 'Living buildings'

According to researchers designing construction materials, inserting bacteria into bri...

ITS project ready for test stage

Researchers are testing new Intelligent Transportation System (ITS) solutions in six E...

GS9 welcomes Naledi Pandor

South Africa's Minister for Science and Technology Naledi Pandor is set to speak at ...

Space policy focuses on boosting Europe

The commission has proposed a space policy that will aim to foster new services and pr...