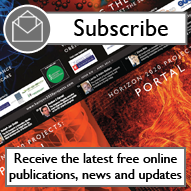 Preliminary EU 2017 budget brokered

The Slovak Presidency of the Council of the EU has brokered the budget for 2017, sett...

CaSE publishes its Autumn Statement

Ahead of UK Chancellor Philip Hammond's Autumn Statement on 23 November, the Campaig...

Partners in crime

Peter Gordebeke and Cornelia van Duijn introduce CoSTREAM, a project working to unders...

Fashion and the SDGs

The UN's Paola Deda argues that consumers and producers in the fashion world could m...

Textiles project to move into "sharing economy"

Launched in June 2015, Textile and Clothing Business Labs (TCBL) aims to innovate the ...

Greener buses tackle UK emissions

A new generation of low emission buses is already saving 55,000 tonnes of greenhouse g...

Agroecology in practice

Samuel Féret, EU co-ordinator of ARC2020, talks to Portal about how agroecological ap...

Gartner predicts smart cities will meet COP21 targets

According to Gartner, half of smart cities will put climate change as their headline K...

A perfect storm

Globally, one child per million is diagnosed with high-risk neuroblastoma every year. ...

EUA calls for better balance in research funding

The EUA has called on the European Commission to ensure the next Framework Programme p...

GoOpti Raises €4.4m for shuttle platform

GoOpti, a European shuttle platform, raised €2.9m in Series A funding and has receiv...

AHDB leads pig welfare project

The UK's AHDB is to lead a new European-wide project that aims to improve pig welfare....

Enhancing STEM education

Dublin City University's Dr Gabriel-Miro Muntean introduces NEWTON, an innovative ne...

EU urged to strengthen youth programme

The EU's flagship Youth Employment Initiative (YEI) programme has been criticised fo...

Lake Bizerte project begins

The Integrated programme for the protection of Lake Bizerte against pollution was laun...