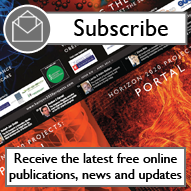 Commission commits €9.1m for innovative businesses

The European Commission has set aside €9.1m to invest in 189 small and medium-sized ...

EIT Digital and Milan develop aircraft technology

As part of EIT Digital's Advanced Connectivity Platform for Vertical Segments (ACTIV...

Pilot projects to trial vehicle-to-grid technology

The SEEV4-City project aims to support the energy infrastructure through vehicle-to-gr...

Manufacturers to develop electric ferry

Finnish company Valmet will supply automation and remote control technology for the E-...

Electric vehicle to assist elderly

EU-funded scientists are designing and developing an affordable and user-friendly elec...

LEVS showcase latest vehicle technology

The first Light Electric Vehicle Summit (LEVS) takes place in Barcelona, Spain, over 2...

AEOLIX enables shared logistics information

Over 100 logistic public authorities, transport companies, service providers and other...

Camera to assist low visibility surveillance

The Snapshot Spectral Imager for IR Surveillance (SEERS) project develops breakthrough...

COST hosts ITS event

A conference in Žilina, Slovakia, aims to bring attention to the role of research org...

Researchers develop sustainable e-mobility

A team of researchers is developing a navigation system for electric vehicles which ex...

Researchers aim for versatile street lights

Companies have been devising cheaper ways of powering street lights, and of allowing t...

Airlander 10 damaged during flight

The world's longest aircraft, the Airlander 10, has been damaged after nose-divi...

Ricardo and CE Delft evaluate H2020 impact

The European Commission's Directorate-General for Energy (DG Energy) has recruited U...

Netherlands GreenTech calls for participants

The European bioeconomy and Dutch GreenTech firms are promoting three events to kick-s...

EU Report: Does noise pollution increase depression?

Environmental noise such as that from aeroplanes, industry and traffic is likely to ca...