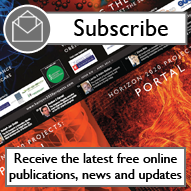 Huddersfield to host European initiative

As part of European Researchers' Night, Huddersfield University will be one of a num...

Breast cancer imaging device granted funding

A European research consortium headed by the University of Twente, the Netherlands, i...

TUT design computer chip

A research group at the Tallinn University of Technology (TUT), Estonia, has designed ...

Virus blood test receives EU grant

ImmunoXpert has received a €2.3m grant from the European Commission to improve and d...

Merck KGaA joins vaccine project

Leading science and technology company Merck KGaA has joined the DiViNe project to cre...

Blood service gains €3.5m funding

Finnish company Brainshake has raised €3.5m in funding. The investment will be used ...

New prospects in radiopharmaceutical chemistry

A new particle accelerator generating radioactive isotopes for use in nuclear chemistr...

AEOLIX enables shared logistics information

Over 100 logistic public authorities, transport companies, service providers and other...

EU funds non-animal testing lab

Leading non-animal testing researchers at the XCellR8 laboratory are now a step closer...

CIP deadline approaching

The deadline for KIC InnoEnergy's, Call for Innovation Proposals (CIP) is coming to ...

HBP receives boost from European Commission

A flagship project which launched a range of prototype computer platforms to support b...

6th EuCheMS Chemistry Congress inaugurated

The 6th EuCheMS Chemistry Congress has welcomed European authorities and industry repr...

Wearable devices revolutionise medical care

A new collaborative research programme is set to explore the potential of wearable dev...

Researchers develop single photon LEDs

Researchers from the Graphene Flagship have used layered materials to create an all-el...

Woody biomass project starts in EU

BIOFOREVER, a consortium of 14 European companies, has announced the beginning of a ...