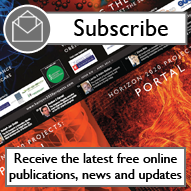 European CTO of the year announced

Ian Roberts, Chief Technology Officer (CTO) of Bühler, and Michael Thiel, Chief Scien...

Parking smart

Following the success of the first annual Disruptive Technologies UK Conference and Ex...

FET Flagships prove their worth

The fourth annual summit of the Human Brain Project (HBP) took place in Florence, ...

UK achieves space innovation success

The University of Strathclyde, UK, has emerged as the winner of Europe's biggest spa...

Disruptive healthcare technologies

Ahead of the Disruptive Technologies 2016 conference, Portal spoke to White October'...

Drug development project empowers patients

Uppsala University, Sweden, and Swiss pharma giant Novartis are leading the PREFER res...

Taking the initiative

Professor Marja Makarow discusses some of the main initiatives in which she was...

Tidal turbine installed at Orkney

The world's most powerful tidal turbine has been installed on its moorings at the Eu...

Collagen Solutions report R&D progress

Collagen Solutions, which manufactures medical grade collagens in Glasgow, Scotland, h...

MOF receives grant to tackle global warming

Queen's University Belfast's spinout, MOF Technologies, has received €317,00...

Knowledge sharing site for organic farmers

A new European initiative called OK-Net Arable has been launched to promote knowledge...

App ensures nutrition for CF Patients

As part of the European MyCyFAPP project, researchers are developing a digital suppo...

Scientists publish 5,000th paper

Researchers at the UK's national synchrotron facility, Diamond Light Source (DLS), h...

Pilot projects to trial vehicle-to-grid technology

The SEEV4-City project aims to support the energy infrastructure through vehicle-to-gr...

Project develops sensing for tissue diagnosis

Integrated Spectrometers for Spectral Tissue Sensing (InSPECT) is designing a miniatur...