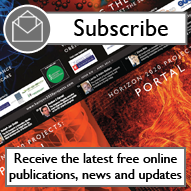 Firing up 5G

EIT Digital's director of research, Fabio Pianesi, introduces SoftFIRE, a programme ...

IBEX robot to revolutionise UK farming

A Leicester county inventor has designed a robot that could revolutionise UK farming....

Project to replicate brain's neural networks

Aston University, UK, has launched MESO-BRAIN, a stem cell research project which aims...

Bacteria in bricks could create 'Living buildings'

According to researchers designing construction materials, inserting bacteria into bri...

ITS project ready for test stage

Researchers are testing new Intelligent Transportation System (ITS) solutions in six E...

Mkango's Phalombe licence renewed

The Government of Malawi has granted dual-listed rare earths junior Mkango Resources a...

Irish start-up leads diabetes prevention

Nuritas, founded by a Trinity College mathematician, is set to run trials in Ireland o...

European CTO of the year announced

Ian Roberts, Chief Technology Officer (CTO) of Bühler, and Michael Thiel, Chief Scien...

Parking smart

Following the success of the first annual Disruptive Technologies UK Conference and Ex...

FET Flagships prove their worth

The fourth annual summit of the Human Brain Project (HBP) took place in Florence, ...

UK achieves space innovation success

The University of Strathclyde, UK, has emerged as the winner of Europe's biggest spa...

Disruptive healthcare technologies

Ahead of the Disruptive Technologies 2016 conference, Portal spoke to White October'...

Drug development project empowers patients

Uppsala University, Sweden, and Swiss pharma giant Novartis are leading the PREFER res...

Taking the initiative

Professor Marja Makarow discusses some of the main initiatives in which she was...

Tidal turbine installed at Orkney

The world's most powerful tidal turbine has been installed on its moorings at the Eu...