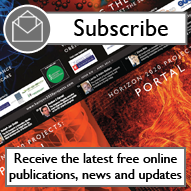 Researchers develop world's fastest gas detector

European scientists are set to develop a multi-gas detector that could spot dozens of ...

EUW 2016 achieves impressive turnout

The first day of European Utility Week (EUW) 2016 is declared a success as a staggerin...

Partners in crime

Peter Gordebeke and Cornelia van Duijn introduce CoSTREAM, a project working to unders...

Finnish companies showcase innovations at EUW

Finpro, the public body that supports SMEs in Finland, is set to showcase Finnish smar...

EUW 2016 begins in Barcelona

The annual landmark event of the European energy calendar, European Utility Week (EUW)...

Schneider Electric launches EcoStruxure Grid

Schneider Electric, the global specialist in energy management and automation, is set ...

Smarter heating

Portal takes a look at district heating in Europe and speaks to Professor Jerker Delsi...

SCOPE project consortium announced

The European Science Foundation (ESF), l'Ecole polytechnique fédérale de Lausanne ...

Antarctic project to find 'oldest ice'

Scientists have set out to try to find the oldest ice in Antarctica. They are seeking ...

Scientists develop model of human lung

Scientists at the Children's Hospital Los Angeles, US, have developed a tissue-e...

Greener buses tackle UK emissions

A new generation of low emission buses is already saving 55,000 tonnes of greenhouse g...

Partnering for progress

The Earlham Institute has joined forces with Kx Systems for an ambitious new project w...

'Self-determining' robots gain EU funding

A new generation of self-determining robots able to set their own goals and mimic the ...

Project utilises global data

Sophisticated computers are mining vast amounts of data from the web, digital maps and...

Scientists aim to develop safer X-ray detectors

A novel photonics technology is being developed to produce a set of low radiation, low...