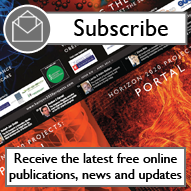 Common staples threatened by water scarcity

A new report has revealed that supplies of animal feed, rice, cotton, grapes and pista...

Floating debris affects Arctic waters

Subtropical ocean gyres are known to be zones of accumulated floating plastic debris, ...

Commission launches Cultural and Creative Cities Monitor

The European Commission has released the first ever edition of the 'Cultural and...

Project to bring Nature to cities

A new project led by Trinity College Dublin (TCD) aims to transform 11 European cities...

CoR expected to elect new head

After leading the European Committee of the Regions (CoR) for two-and-a-half years, Ma...

Rotterdam implements energy transition

The City of Rotterdam in the Netherlands has implemented cost-effective ways of reduci...

OIKOS studies historic concept anchoring processes

Classicists at the National Research School in Classical Studies (OIKOS), Nijmegen, th...

Research shows SME office culture top with Irish workers

Research has found that almost 70% of Irish workers would like to work in a small to m...

NUIG research projects receive funding

Eight research projects underway at NUI Galway, Ireland, have been awarded a total of ...

EIC to get Horizon 2020 'top-up

The European Innovation Council (EIC) is to receive €50m of an extra €200m expecte...

Researchers develop yellow fever and rabies vaccine

The RABYD-VAX consortium, led by the University of Leuven (KU Leuven), Belgium, has be...

Lisbon to open international water research centre

Lisbon, Portugal, is to introduce an international water research centre to find new w...

Study suggests investment in innovation is crucial

According to a report by the European Commission, public funding of research and innov...

Freiburg leads smart city initiative

Under the direction of the city of Freiburg im Breisgau, Germany, over 60 partners fro...