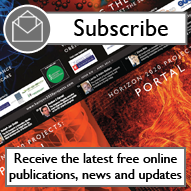 Augmented reality visor to assist doctors

Scientists are to develop an augmented reality (AR) surgical visor capable of superimp...

MSCA researchers selected to showcase EU actions

To mark the 100,000th fellow benefitting from the Marie Skłodowska-Curie Actions (MSC...

Researchers develop device for diagnosis of oesophageal cancer

The Institute of Biological and Medical Imaging (IBMI) at Helmholtz Zentrum München, ...

Project to analyse cognitive ageing

A new project funded under Horizon 2020 is set to identify the risk and protective fac...

UCD takes lead on ophthalmic research

The University College Dublin (UCD), Ireland, is to lead a new international industry-...

Project to fight insect-related diseases

UK research organisation the Pirbright Institute is to play an integral role in an int...

Breast cancer test receives vital funding

OncoMark, a University College Dublin (UCD), Ireland, spin-out company focused on the ...

Risky study helps treat MS

A clinical trial led by Imperial College London (ICL), UK, has revealed the potential ...

Prevention is better than cure

The ECDC's Dr Andrea Ammon speaks to Portal about the threats posed by healthcare-as...

EU-funded researcher studies breast milk impact

UK-based, EU-funded researcher Dr Tanya Cassidy plans to find out about the medical ri...

New secretariat for animal health IRC

A new scientific secretariat for the International Research Consortium (IRC) on Animal...

UCD leads international medical consortium

The University College Dublin (UCD), Ireland, is to lead a new international consortiu...

Breast cancer exposed

Speaking to Portal, Breast Cancer UK makes the case for a shift in focus from breast c...

Small steps for big change

Chair of the Global Hygiene Council Professor John Oxford discusses a new report into ...