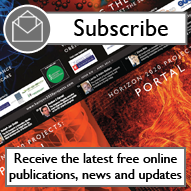 EPA calls on researchers to solve climate issues

The Environmental Protection Agency (EPA) has made €8.2m available to researchers to...

Researchers revive ancient crops to encourage diversity

Farmers who grow single crops are particularly vulnerable to the effects of climate ch...

Irish researchers secure funding for climate studies

Ireland's Environmental Protection Agency (EPA) has revealed that 41 Irish researche...

Scheme encourages drivers to swap cars for bikes

Reading Borough Council, UK, is to launch a new scheme that will offer rewards for cyc...

NUIG research projects receive funding

Eight research projects underway at NUI Galway, Ireland, have been awarded a total of ...

PrimeFish project delivers its first results

From 4-6 April the European project PrimeFish, funded under the Horizon 2020 programme...

EU launches sustainable fisheries project

The EU has launched the ClimeFish project in an attempt to evaluate data streams to en...

JRC releases 2016 Wind Energy Status Report

The Joint Research Centre (JRC) has released its Wind Energy Status Report 2016, prese...

Wave power prototypes receive funding

Two firms in Scotland have secured £2.5m (~€2.8m) to trial prototype technology whi...

Natural refrigerants awarded for energy efficiency

European project ProCold has recognised the most efficient and climate-friendly refrig...

Research tool makes energy planning easier

An EU-funded research project has launched a tool that enables European governments an...

MSCA researchers selected to showcase EU actions

To mark the 100,000th fellow benefitting from the Marie Skłodowska-Curie Actions (MSC...

ESA's Sentinel-2B launched into space

Europe has launched its latest Earth observation (EO) satellite, a spacecraft that wil...

Researchers aim to halve CO2 footprint of carbon fibre

Researchers from across Europe, led by the University of Limerick (UL), Ireland, have ...