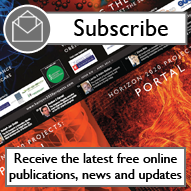 Study discovers new technique to control soundwaves

A team of scientists from the Max Planck Institute for the Science of Light, Germany; ...

Project to transform online information sharing

The DEcentralised Citizen Owned Data Ecosystem (DECODE) project is to focus on develop...

Partnership to deliver flawless mobile connectivity

Cloudstreet, the network slicing innovator specialising in delivering SLA-assured mobi...

Researchers to use maths to support wellbeing

A De Montfort University (DMU) Leicester, UK, researcher has received a €183,000 gra...

ERC awards grant for data compression

Joachim Weickert, professor of mathematics and informatics at Saarland University, Ger...

ReCap system provides real-time video analysis

A consortium of European technology firms has demonstrated a working prototype of a vi...

New toolkit for modern journalism set to launch

Wan-Ifra has been selected under the Horizon 2020 programme to help facilitate the com...

Driverless car trials in UK receive funding boost

Connected and autonomous vehicle technology in the UK will take another step forward ...

Project launches wearable technologies competition

A wearable technology project is offering up to €2.4m in funding for teams of creati...

NUIG research projects receive funding

Eight research projects underway at NUI Galway, Ireland, have been awarded a total of ...

EIT Digital launches 'Robot IoT Interface'

EIT Digital has announced the launch of 'Robot IoT Interface', a new activity with...

Project to deliver next-generation cloud service

Researchers at IMDEA Networks are working on the EU-funded project RECAP to develop th...

Ameland adopts bird-friendly street lighting

Philips Lighting has announced a bird-friendly connected light-emitting diode (LED) s...

Imaging project offers applications in cancer diagnostics

Innovative medical device contractor ITL Group has partnered with King's College Lon...