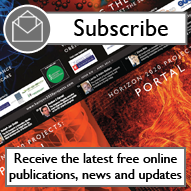 Bacteria could boost graphene semiconductivity

A team of researchers at the University of Illinois (UoI), Chicago, US, has found a wa...

'Cubesats' to explore thermosphere

An EU-led project named QB50 will see 50 small satellites released from the Internatio...

EU calls for independent experts

The European Commission is calling for independent experts to analyse and evaluate Hor...

SME Instrument sees budget increase

The most recent update to the Horizon 2020 Work Programme 2016-2017 has seen the SME I...

The future is floral

Pan European Networks undertook some research into the unusual development of robotic ...

IR Prize nominations available

The Innovation Radar (IR) is an initiative supported by the European Commission to ide...

Aviation industry drives digital transformation

The digital revolution has opened the world up to all. No sector has contributed more ...

Cray supercomputers pilot JULIA system

Cray, a German supercomputing company, is piloting its JULIA system in the Pre-Comme...

Finnish company wins €2.5m H2020 funding

TactoTek, a leading manufacturer of 3D injection moulded structural electronics (IMSE)...

Transport and space projects gain momentum

VTT Technical Research Centre of Finland, an innovation support company with projects ...

Innovate UK sponsors Venturefest SW 2016

The UK's national contact point for Horizon 2020, Innovate UK, is sponsoring this ye...

Peacehack challenges hate speech

Peacehack takes tackling hate speech as its 2016 theme as it attempts to utilise techn...

Lasers improve communications and sensing applications

The lateral photonic integration of oxide-confined, leaky, vertical-cavity, surface-em...

China develops graphene battery

A faster, more efficient graphene battery called 'G-King' has been developed in Ch...

Project focus: Flora robotica

Flora robotica is a four-year project running from April 2015 – March 2019 and fund...