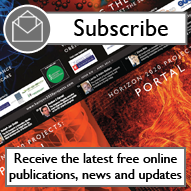 Researchers develop single photon LEDs

Researchers from the Graphene Flagship have used layered materials to create an all-el...

Woody biomass project starts in EU

BIOFOREVER, a consortium of 14 European companies, has announced the beginning of a ...

ERC funds crop immunity project

The European Research Council (ERC) has announced a €1.5m starting grant to investig...

Camera to assist low visibility surveillance

The Snapshot Spectral Imager for IR Surveillance (SEERS) project develops breakthrough...

Dundee University to produce citizen science

Dundee University, Scotland, is set to lead a €5m environmental project working w...

COST hosts ITS event

A conference in Žilina, Slovakia, aims to bring attention to the role of research org...

Researchers develop sustainable e-mobility

A team of researchers is developing a navigation system for electric vehicles which ex...

École Polytechnique and KIC InnoEnergy invite applications

French engineering schools École Polytechnique is opening a renewable energy programm...

Lincoln provides UK development research

The University of Lincoln, UK, will drive the UK's role in the delivery of a €3.7m...

Sentinel-1A satellite hit by space particle

European Space Agency (ESA) engineers have discovered that a solar panel on the Copern...

'Rigvir' could double cancer survival rates

Scientists in Latvia have developed a new treatment for cancer virotherapy called 'R...

EU project solves Netflix mystery

The EU-funded ENDEAVOUR project team has discovered how Netflix's servers work witho...

Graphene key to growing 2D materials

Materials scientists from Pennsylvania State University, US, have discovered a method ...

Researchers aim for versatile street lights

Companies have been devising cheaper ways of powering street lights, and of allowing t...

UCC-led MARIBE seeks €120m funding

The University College Cork (UCC)-led Marine Investment in the Blue Economy (MARIBE) ...