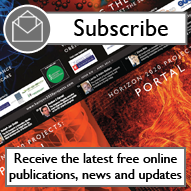 Manufacturers to develop electric ferry

Finnish company Valmet will supply automation and remote control technology for the E-...

€65m to innovate Bulgaria and Slovakia

The European Investment Fund (EIF) and CIBANK JSC (CIBANK) have signed an agreement to...

UK invests in healthcare technologies

The UK's Universities and Science Minister Jo Johnson has announced £17.7m (~€20....

Intelligent trousers set to assist the disabled

An international, multidisciplinary team of researchers are aiming to develop an intel...

Scanning mirror helps create 3D eyewear

Leading 3D capture and imaging innovator Fuel3D is set to introduce 3D scanning mirror...

EI collaborates with Icelandic data centre

The Earlham Institute (EI), UK, has announced its new partnership with Verne Global, a...

Biotech Week begins

EuropaBio has opened its new edition of the European Biotech Week as 16 European count...

Researchers develop 3D protein models

Researchers have developed new microscopic techniques capable of achieving accurate 3D...

EU probe to 'close data gaps' on building energy use

In a bid to improve energy efficiency, a project backed by the European Commission wil...

Cloud-based deployment in Sweden

Silver Spring Networks has announced plans to expand its public cloud network, data se...

Hub to advance UK engineering

A collaboration between the University of Southampton, UK, and the National Microelect...

Heliatek raises €80m

Heliatek, a world leader in organic photovoltaic technology and manufacturer of solar ...

Juncker adds funding to 5G plans

Having previously outlined 5G action plans, European Commission President Jean-Claude ...

Electric vehicle to assist elderly

EU-funded scientists are designing and developing an affordable and user-friendly elec...

Innovative SMEs benefit from EU loans

The European Investment Fund (EIF) and ProCredit Bank, Ukraine, have signed a loan g...