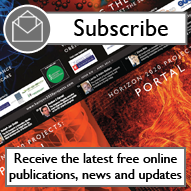 Real-time research

Mälardalen University's Professor Mikael Sjödin on how applied and basic research into embedded systems has resulted in international recognition....

Climate effects on Arctic marine ecosystems

The research project "Climate effects on planktonic food quality and trophic transfer in Arctic Marginal Ice Zones II" (CLEOPATRA II) studies the degree of match/mismatch of key biological processes at the base of ...

Lomiko's strategy begins to take shape

Lomiko Metals (TSX-V: LMR, OTCQX: LMRMF) spent the autumn and winter of 2014-2015 advancing its graphite projects and moving forward with graphene technologies. It also stepped out into the growing electronics space. If ...