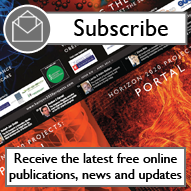 Report: EU should take more risks

A report by Robert Madelin asks the EU to spend on new medicines, genomics, the human ...

Moedas reassures UK researchers

Commissioner for research Carlos Moedas has reassured UK researchers that their validi...

UK researchers fear Brexit cuts

UK scientists are concerned about being excluded from EU-funded research projects befo...

SESAR 2020 begins exploratory research

The first SESAR 2020 exploratory research projects aiming to modernise air traffic man...

Our history's future

Dr Robert Bewley discusses how the EAMENA project is working to help preserve the arch...

Clinical neurophysiology research perspectives

Professor Walter Paulus of the European Chapter of the International Federation of Cli...

Photonics largely unaffected by Brexit

UK photonics companies reliant on EU funding may be affected by the Brexit. For the mo...

Digital deliberations

Willem Jonker, CEO of EIT Digital, spoke to PEN about the challenges facing digital in...

RAS urges continued EU science platform

The Royal Astronomical Society (RAS) has issued an official statement urging the UK go...

Set in Stone

An expert in ancient linguistics, Dr Philippa Steele of University of Cambridge, UK, t...

KIT secures highest third-party funding

The Karlsruhe Institute of Technology (KIT) is the most successful German university u...

JRC begins Black Sea project

A major oceanographic campaign led by the EU's Joint Research Centre (JRC) has begun...

EU expects 130,000 bioeconomy jobs

The EU is expecting a bioeconomy market worth €45bn, creating around 130,000 jobs by...

EU encourages researchers in Brazil

The scientific exchange between Brazil and the EU is being boosted through the Marie S...

H2020 consultation on societal challenge 2

Citizens and organisations are invited to the H2020 consultation on societal challenge...