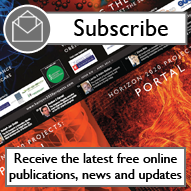 Liverpool secures heritage funding

Liverpool, UK, has become one of ten European cities to take part in a pan-European in...

Getting smarter

Eric Woods, research director at Navigant Research, spoke to Portal about how smart ci...

Project to address unexpected cyber risks

A research project is set to address cybersecurity concerns by researching, developing...

Project set to satisfy olive oil regulations

A group of researchers from the University of Bologna in Italy and the University of V...

Project to boost sat nav positioning accuracy

The University of Nottingham, UK, is set to exploit Global Navigation Satellite System...

The digital transition

Christian Pilgaard Zinglersen, Deputy Permanent Secretary at the Danish Ministry of En...

HiPEAC releases new report

The European Network on High Performance and Embedded Architecture and Compilation (Hi...

Fuelling the future

Executive director of the Fuel Cells and Hydrogen 2 Joint Undertaking Bart Biebuyck me...

Finland launches first fully electric buses

Passengers in Helsinki, Finland, can now ride the city's first all-electric bus. The...

Guild calls for research improvements

The Guild of European Universities has called for significant increases in funding thr...

COST: benefit analysis

President of the COST Association Dr Ángeles Rodríguez Peña met with Portal in Žil...

SMEs in France gain additional funding

The European Investment Fund (EIF), Banque Populaire and the Federation Nationale des ...

Project set to make 360° video clearer

Horizon 2020 is set to devote a portion of its funding to a group of video companies a...

Commission names panel of innovation advisors

European Commissioner for Research, Science and Innovation Carlos Moedas has taken a s...

Study aims to cut dementia

Researchers have said that eating well and going for walks in middle age can help cont...