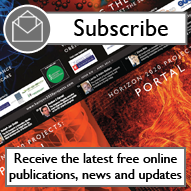 Ingenza celebrates SME success

Ingenza has announced its successful EU Horizon 2020 SME Instrument funding of €50,0...

IBEX robot to revolutionise UK farming

A Leicester county inventor has designed a robot that could revolutionise UK farming....

InnoEnergy launches social media for sustainable innovation

InnoEnergy, the innovation engine for Europe's energy industry, has officially launc...

Project to replicate brain's neural networks

Aston University, UK, has launched MESO-BRAIN, a stem cell research project which aims...

Bacteria in bricks could create 'Living buildings'

According to researchers designing construction materials, inserting bacteria into bri...

The power of solar

Professor James Durrant, co-ordinator of the Solar Fuels Network, spoke to Portal abou...

Defence research receives EU funding

Grant agreements worth a total of €1.4m have been signed at the European Defence Age...

ITS project ready for test stage

Researchers are testing new Intelligent Transportation System (ITS) solutions in six E...

Mkango's Phalombe licence renewed

The Government of Malawi has granted dual-listed rare earths junior Mkango Resources a...

Canadian researchers to join ERC

A new deal between Canada and the EU has been concluded to encourage talented Canadian...

Irish start-up leads diabetes prevention

Nuritas, founded by a Trinity College mathematician, is set to run trials in Ireland o...

European CTO of the year announced

Ian Roberts, Chief Technology Officer (CTO) of Bühler, and Michael Thiel, Chief Scien...

Parking smart

Following the success of the first annual Disruptive Technologies UK Conference and Ex...

App helps scientists map sea litter

A Joint Research Centre (JRC)-run project is bringing together scientists from across ...

Study shows mixed fortunes for penguins

A 40-year study on a remote Antarctic island has shown that while populations of two p...