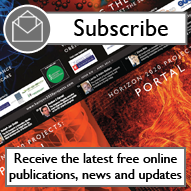 Tracking to provide bird flu warning

Scientists have said that monitoring birds on their long distance migrations may provi...

Co-operation boosts European bioeconomy

At the European Bioeconomy Congress in Łódź, Poland, efforts to intensify co-operat...

Collagen Solutions report R&D progress

Collagen Solutions, which manufactures medical grade collagens in Glasgow, Scotland, h...

EU funding drives Welsh engineering

An extra £850,000 (~€941,000) of funding has been secured to drive Wales' enginee...

Over 3,000 SMEs benefit from 'Seal of Excellence'

Since its launch in October 2015, more than 3,000 small and medium-sized enterprises (...

DLS leads teacher development programme

Scottish science teachers have become the first to benefit from a new pilot programme ...

MEPs call for more funding

The Budgets Committee has demanded more funds to help young people into jobs, to boost...

MOF receives grant to tackle global warming

Queen's University Belfast's spinout, MOF Technologies, has received €317,00...

Glasgow calls for EU funding after Brexit

Glasgow has called on the UK and Scottish governments to match all EU-funding commitme...

Ireland has highest SME success rate

Ireland has been announced as having the highest success rate in Europe for the Horizo...

Cyprus launches climate innovation programme

Academics, business leaders and government officials in Cyprus celebrated the rollout ...

SMEs showcase innovations at summit

As part of the Innovators Summit in Brussels, Belgium, 20 European Small and Medium-si...

Knowledge sharing site for organic farmers

A new European initiative called OK-Net Arable has been launched to promote knowledge...

LERU and CE7 join forces

The League of European Research Universities (LERU), and a group of seven research uni...

EUW 2016 focuses on how to meet COP21 commitments

European Utility Week (EUW), has unveiled this year's conference programme. The even...