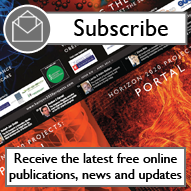 Textiles project to move into "sharing economy"

Launched in June 2015, Textile and Clothing Business Labs (TCBL) aims to innovate the ...

Greener buses tackle UK emissions

A new generation of low emission buses is already saving 55,000 tonnes of greenhouse g...

Partnering for progress

The Earlham Institute has joined forces with Kx Systems for an ambitious new project w...

'Self-determining' robots gain EU funding

A new generation of self-determining robots able to set their own goals and mimic the ...

MSCA to celebrate 20th anniversary

On 29 November 2016 an event will be held to celebrate the 20th anniversary of Marie S...

Project utilises global data

Sophisticated computers are mining vast amounts of data from the web, digital maps and...

Scientists aim to develop safer X-ray detectors

A novel photonics technology is being developed to produce a set of low radiation, low...

Ariane 6 rocket receives full funding

The final tranche of R&D funding was committed on 9 November to introduce a new Ariane...

Agroecology in practice

Samuel Féret, EU co-ordinator of ARC2020, talks to Portal about how agroecological ap...

Gartner predicts smart cities will meet COP21 targets

According to Gartner, half of smart cities will put climate change as their headline K...

Researchers deploy wave energy device

The final section of a wave energy device has been installed by a research team in the...

Research consortium detects metal impurities

A consortium of researchers has discovered that trace amounts of transition metal impu...

Sensor accelerates deadly bacteria detection

The risk of catching Legionnaires' disease from air conditioning units has been dram...

A perfect storm

Globally, one child per million is diagnosed with high-risk neuroblastoma every year. ...

Report: Brexit could be bad news for bees

Norman Carreck, science director of the IBRA, has warned that the UK's vote to leave...