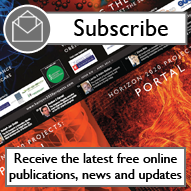 Project vows to improve Africa's agriculture

A new Horizon 2020 project named InnovAfrica has vowed to take an innovative and integ...

InnoEnergy invests in NexWafe's solar technology

InnoEnergy, the innovation engine for sustainable energy, has committed €2m to NexWa...

Europe joins forces to combat plant bacteria

The EU has joined 29 international partners in a research project aimed at improving t...

ICL president seeks research clarity

The president of Imperial College London, UK, has said that UK universities need clari...

3D chip to accelerate drug research

Scientists at the University of Crete, Greece, are studying human brain cells to under...

Cultural heritage project secures funding

A new social media platform similar to Facebook is to be developed by researchers to e...

Research shows graphene can carry high electric currents

New experiments have shown that it is possible for extremely high currents to pass thr...

UK pledges research funding

The UK government has said it will provide £137m (~€162m) to Cambridge University ...

Welsh technology firm secures funding

Research and technology organisation TWI has secured £1m (~€1.19m) of EU funding to...

Brexit uncertainty 'impacting' UK science

A House of Lords report has suggested that uncertainty over the nature of the UK'...

'Smart knee' device to speed up surgery recovery

Researchers in Cork, Ireland, have helped produce a new device that aims to improve an...

ID assurance firm secures funding

Signicat, the providers of electronic identity and electronic signature solutions, has...

Scientists identify 'jet stream' in Earth's outer core

Scientists say they have identified a new feature in Earth's molten outer core. They...

Stroke imaging technology gains funding

A consortium of universities and healthcare specialists have teamed up to develop an i...

Digital wallpaper allows interchangeable colour

Scientists from Italy have created 'digital wallpaper', allowing for a constant ch...