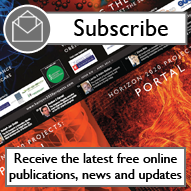 Nanosensors for Alzheimer's diagnosis

To facilitate diagnosis, researchers have generated a new tool for detecting protein c...

Gold could have formed from star collision

A team of researchers at the Aristotle University of Thessaloniki, Greece, have been s...

Project profile: 3DUNDERWORLD

Cypriot scuba diver Charalambos Poullis considered the difficulties for marine archaeo...

Breath test disease detection hopes

Breathtec Biomedical Inc. has stated its aims to improve and further develop breath te...

Irish Research Council awards €33.7m to researchers

Last year around 1,400 researchers were awarded €33.7m by the Irish Research Council...

Horizon 2020 update supports competitiveness

Building upon the success of the 2015-2016 work programme, H2020 incorporates new and ...

Project Profile: GraWIToN

GraWIToN is an initial training network funded by the European Commission under the S...

PEARRL pushes innovation through research

PEARRL is a European Training Network (ETN) funded under the Horizon 2020 Marie Skłod...

Anticancer drug halts Ebola virus molecule

A team of scientists from the University of Oxford, UK, has mapped the structure of th...

Brussels hosts MSCA forum

On 29 June a forum will take place in Brussels, Belgium, that focuses on supporting re...

MSCA study could improve dental treatment

Research into the evolutionary changes in human jaws under the Marie Skłodowska-Curie...

Digital fingerprints used in cybersecurity

Patterns hidden in every digital photograph and video frame, image fingerprints, are b...

EU encourages researchers in Brazil

The scientific exchange between Brazil and the EU is being boosted through the Marie S...

CERN seeking researcher through MSCA

CERN is seeking to recruit one Early Stage Researcher through the Marie Skłodowska-Cu...

MSCA ESOF satellite event in Manchester

Alumni of the Marie Skłodowska-Curie Actions (MSCA) and of the EuroScience Open Forum...