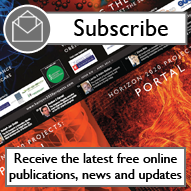 Guild calls for research improvements

The Guild of European Universities has called for significant increases in funding thr...

Georgians thrive under Horizon 2020

After successfully joining Horizon 2020, Georgian scientists are now set to receive mo...

Training network to address cardiovascular disease

The European Joint Doctorate (EJD) INTRICARE is set to address the urgent and unmet me...

Energy storage project receives funding

The Electrochemical Conversion of Renewable Electricity into Fuels and Chemicals (ELCO...

EU strengthens partnership with Indian Universities

Vice-chancellors and academic leaders of Indian universities and Higher Education Inst...

UCD to lead effort to tackle mental health

The University College Dublin (UCD), Ireland, has been chosen to lead a European netwo...

Europe's research network set for expansion

The European research network has been strengthened with a decision to expand the Leag...

MSCA to celebrate 20th anniversary

On 29 November 2016 an event will be held to celebrate the 20th anniversary of Marie S...

Research consortium detects metal impurities

A consortium of researchers has discovered that trace amounts of transition metal impu...

Researchers alleviate cancer drug effects

The Wihuri Research Institute (WRI) and the University of Helsinki, Finland, say gene ...

Project examines Europe's trauma-exposed populations

A new research project, 'COllaborative Network for Training and EXcellence in psycho...

UK student becomes MSCA fellow

A student from the University of Cumbria, UK, has the opportunity to study a PhD at t...

MEPs call for more funding

The Budgets Committee has demanded more funds to help young people into jobs, to boost...

Project strengthens the role of universities

The Universitat Autònoma de Barcelona (UAB), Spain, is set to participate with six ot...

Researchers develop 3D protein models

Researchers have developed new microscopic techniques capable of achieving accurate 3D...