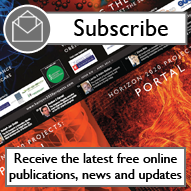 Tilos to convert to renewable energy storage

The Greek island of Tilos is set to approve a renewable energy programme, allowing for the creation of the country's fi...

Perovskite quantum dots gain stability

Scientists at the École Polytechnique Fédérale de Lausanne (EPFL), Switzerland, have built a new type of inorganic nanocom...

Project to review design-driven innovation

Design for Europe partners, the Business and Cultural Development Centre in Greece (KEPA), the National Agency for Innovation...

EU collaboration to boost the IoT

A new research project is to focus on integrating electronics into a broader range of everyday items in a bid to widen the sc...

Study discovers new technique to control soundwaves

A team of scientists from the Max Planck Institute for the Science of Light, Germany; the California Institute of Technology,...

Project to transform online information sharing

The DEcentralised Citizen Owned Data Ecosystem (DECODE) project is to focus on developing practical alternatives for individu...

Study: Man-made chemicals present in the Atlantic

A 'health check' of the Atlantic Ocean by the marine research ship Celtic Explorer has found an increased presence of m...

Cordless tools receive Horizon 2020 funding

ZapGo Ltd (Zap&Go) has been awarded a grant worth €1.43m to enhance the cordless prototype tools it has already develop...

Research reveals new insights into Alzheimer's disease

Research led by the University of Hertfordshire, UK, could significantly change the understanding of cognitive processes that...

Universities say Brexit barriers 'would harm science'

The Russell Group of research intensive universities have said that barriers to research collaboration in Europe as a result ...

Project to demonstrate advantages of synthetic fuels

The To-Syn-Fuel project is set to demonstrate the production of synthetic fuels and green hydrogen from waste biomass. The Eu...

Partnership to deliver flawless mobile connectivity

Cloudstreet, the network slicing innovator specialising in delivering SLA-assured mobile internet connectivity, and Goodmill...

Project suggests citizen-based research possible

Following the release of 23 citizen-based suggestions for Horizon 2020, the CIMULACT project has demonstrated that the up-str...

Denmark's E-ferry to deploy first battery system

Leclanché has launched its Marine Rack System (MRS) – the first marine battery system of its type approved by revised DNV-...

Researchers to use maths to support wellbeing

A De Montfort University (DMU) Leicester, UK, researcher has received a €183,000 grant to create a new mathematical model w...